Every year, our students are required to participate in state assessments to ensure that Barrington Public Schools is meeting the learning needs of our community. We share the results of these assessments to give you an idea about our district's progress toward proficiency. We also use the results of these assessments to drive strategic planning, help us improve classroom instruction, and identify areas where students may need extra support. Finally, the assessment results allow our schools to be considered for such recognitions as Commended Schools and Blue Ribbon Schools. To meet annual yearly progress (AYP), we must show growth in learning, improvements in gap closure for all student populations, a minimum of 95% participation rates, strong graduation rates, and low suspension rates. You may find all public test scores, data, and historical charts on the RIDE Data Portal.
Student Data Reports
Barrington will send state assessment results for all test areas except PSAT and SAT to your homes once we receive the reports from RIDE. High school families and students can check their individual PSAT and SAT scores by logging into Collegeboard.org and signing into their accounts. If a student forgets their password, you can access the "Need help signing in" feature within the Collegeboard site.
Free Tutoring for All Rhode Island Students
Rhode Island students can register for Schoolhouse.world through RIDE's All Course Network (ACN). Students can register for Schoolhouse.world tutoring at EnrollRI.org/ACN. There is no deadline to register, and there are no limits to the number of Rhode Island students who can take advantage of this opportunity. In addition, the following opportunities are also available:
December SAT Bootcamp: Visit this link to enroll in an SAT Bootcamp!

College Application Support Hotline: Visit this link to join the Deadline Hotline interest list! You'll then get reminded to attend the webinar on Tuesday, November 29th, from 6-10 pm EST.
Current Context
Through our data analysis there are many areas worth celebrating. We want to take this opportunity to commend the hard work of our students and educators as we work toward reaching and exceeding our Pre-COVID student achievement levels. It is the BPS mission to empower all students to excel and thrive as individuals. Our educators are dedicated to supporting our students in achieving that vision.
We applaud our students' and educators' academic, athletic, artistic, deep learning, and personal accomplishments. Still, it is important to acknowledge the academic and social-emotional challenges COVID presented, from increased needs related to social-emotional well-being to increased absences due to state-required isolation and quarantines. Like other schools and districts across the country, we have identified a correlation between test scores and increased absences in some of our 2021-2022 results.
Like Rhode Island, we realized greater gains in mathematics than in English Language Arts (ELA).
In K-5, we have been engaged in the Eureka math curriculum since 2013 and added Freckle and Zearn as supplemental supports entering the pandemic. These resources have proven to be useful tools for our teachers in delivering strong in-person and virtual instruction.

We have only recently begun implementing our new ELA curriculum (Expeditionary Learning) across K-5. Grades 6 -12 are in the process of implementing new curricula in ELA and math following RI General Law 16-22-30. In addition, we still need to complete our training on the Science of Reading in grades K-12.
Even with so many challenges, as a district, we have many areas to celebrate that we have highlighted below.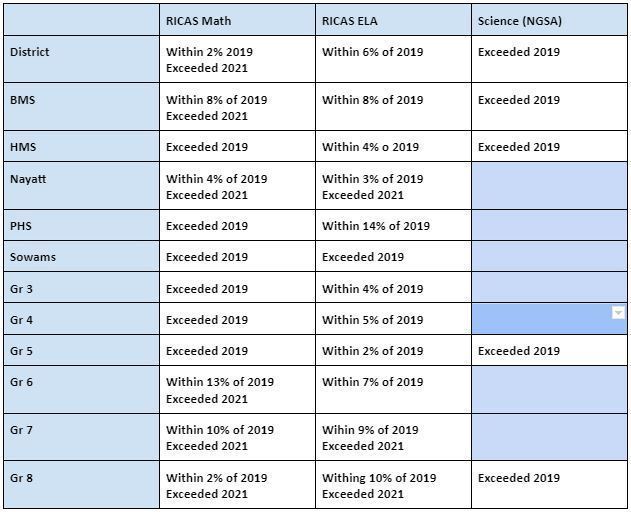 Multi-Language Learning (MLLs) Population
Across the state, the Multi-Language Learner population is growing; however, there needs to be more statewide achievement on RICAS, PSAT, SAT, NGSA for this demographic group. As our population changes, Barrington has increased our focus and staffing for MLLs.
28% of Barrington MLL students have met or exceeded proficiency on RICAS ELA compared to 4.2% across the state

47% of Barrington MLL students have met or exceeded proficiency on RICAS Math compared to 5.5% across the state, and

28% of Barrington MLL students have met or exceeded proficiency on NGSA Science compared to 3% across the state.

66.7% of Barrington MLL students have met or exceeded proficiency on PSAT ELA compared to 6% across the state, and

66.7% of Barrington MLL students have met or exceeded proficiency on PSAT Math compared to 2% across the state.

During 2021-2022, we did not have any MLL students eligible to take the SAT ELA or Math.
Students with Individualized Education Plans
Gaps in special education performance are closing. Four of seven grade levels measured by state testing show smaller gaps than a year ago. When looking at cohort data, following a group of students across time, grades 4,5, and 7 ELA show smaller gaps than the previous year. We are continuing to work toward meeting and exceeding 2019 gap closure levels.
Increased the number of instructional minutes for students with intensive reading needs

Began use of an Orton Gillingham-based program for students with reading goals in their IEPs
Next Steps and ESSER
As we further analyze and break down the data over the course of the next few weeks, we will identify trends and areas of growth and need. Part of the exercise will be to reevaluate our decisions for our ESSER funds to ensure that we are making data-based decisions regarding the distribution of resources and staffing.
Some changes that we have already made based on 2021 internal and state assessment data, reflected in the 22-23 Budget, Title 1 Grant funding, and ESSER Grant funding, include
A district-wide multi-tiered system of support (MTSS) Coordinator

An instructional coach at BHS

An increase to two reading teachers at Primrose Hill, where we had the highest needs in literacy

A part-time reading teacher at Nayatt to support the return to Pre-COVID literacy levels.

A part-time literacy coordinator at Hampden Meadows to work with core curriculum and literacy in grades 4 and 5

An additional MLL teacher to support our growing population at Hampden Meadows School

An investment in Science of Reading professional development for all teachers, with additional training for some special educators and reading specialists

Extended summer learning programs, moving from a 6-11 model to a K-11 model.
As we move forward, we will investigate state-endorsed intensive tutoring programs, instructional supports for our new math and ELA curriculum areas, and intensified training for specially designed instruction. We will also continue to evaluate future staffing needs relative to student achievement and SEL data. The steps will include providing double-dose services for students who switch IEPs and ensuring that students do not miss core instruction during an intervention.
District and Building Administrators will provide a more comprehensive breakdown of our data, inclusive of charts and data, at our School Committee Workshop on 11/17/2022.