The Barrington Public Schools commitment to providing a high-quality education requires the establishment of district goals aligned to responsible fiscal management focused on maximizing an academic return on investment for Barrington taxpayers. The FY23 Proposed Operating Budget represents the District's commitment to a world-class education to our students while providing the essential materials and resources educators need to deliver high-quality instruction.
The School District's FY23 Proposed Operating Budget is $60,275,372 which represents an increase in spending of $3.1M or 5.4%. An anticipated $1.9 M increase in FY23 state aid through the funding formula calculation has once again significantly mitigated the taxpayers' impact. In sum, the net increase from local taxpayers for the operating budget is $1.1M, or a 2.4% increase on the tax levy.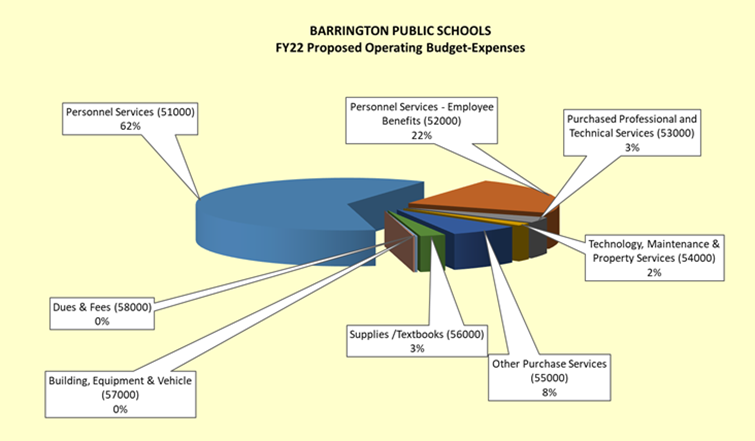 It is significant to note that Barrington's per-pupil expenditure still remains well below (over 13%) the state equalized average of $17,431, as illustrated on the state per-pupil expenditure document. Still, we recognize that the majority of our district funding is supported by local tax resources. For these reasons, we carefully examined our budget proposal to ensure that it is both student-centered and fiscally responsible.
The District has diligently worked to align our budget priorities and important initiatives to our comprehensive strategic plan. The budget priorities for Fiscal Year 2023 target important priorities directly aligned to the District's Strategic Plan. Please see a summary of some of those priorities below:
Pre-K Teacher 1.00 FTE To address the increasing needs of mandated pre-school services for students and an increasing enrollment.
Psychologist-Hampden Meadows School .5 FTE Increasing the position to full time to support the Social-Emotional needs of our students.
Certified Teacher-K-8 SEL Behavior Specialist 1.00 FTE To support the Social-Emotional needs of our students, particularly at the K-8 levels.
K-3 Reading Specialist Primrose Hill 0.67 FTE To comply with Federal guidelines.
K-3 Reading Specialist-Primrose Hill (Title I) 0.50 FTE grant funded to support student needs
8th Grade Teacher-BMS 1.00 FTE Expanding a three-person Cluster to meeting student enrollment needs.
Math Teacher-BHS 0.60 FTE To address student enrollment needs of High School Computer Science program, including multiple CTE pathways (AP/college credit)
Communications Coordinator -Admin. 1.00 FTE Improve on informing and engaging our community
Human Resource Coordinator -Admin. 1.00 FTE Improving efficiency and support to BPS Employees
Music Teacher K-3 (Chorus reimplementation) 0.20 FTE Address the K-3 music programming including reimplementing chorus
Teacher K-3 (enrollment based) 1.00 FTE Prepare for anticipated enrollment needs at the K-3 level
Strategic Plan Funding to updated the BPS Strategic Plan as it expires at the end of 2023
Diversity Equity Inclusion (DEI) Audit Funding to establish and ensure equitable access, procedures, treatment, and outcomes for all students.
The Barrington Public Schools budget is a balanced budget, yet some expenses vary annually and are not easily estimated in advance, such as support services for special education and out of district tuition. During the year, our Administration monitors all costs and adjusts forecasts as needed. As a result of these fiscal practices, the District has, in recent years, ended the school year modest surpluses. The Town and School Department have been acknowledged by bond rating agencies for their responsible fiscal management of funds. Any surplus funds at the end of the school year are used for one-time, long-term capital Improvement projects, which are eligible for 35% State Housing Aid reimbursement once our fund balance reserve is met. The strategic use of these funds for facility repairs and improvements has allowed our community to avoid issuing bonds for many capital projects.
We will continue to keep you informed regarding updates to the FY 23 School Budget. You can also find updated FY23 budget information on the District Website.
For more information regarding the School District's FY23 Budget, please attend the next COA meeting on the Final Vote for Recommended School and Town Budgets on Tuesday, April 12, 2022 at Barrington Middle School.