Superintendent Update 1-13-2022: COVID Decision Tree

As a reminder to families and staff, we have developed the following decision tree, which we shared in late November, to support our administrative staff in making decisions around classroom and school closures and to provide transparency around those decisions. We have provided the decision chart below.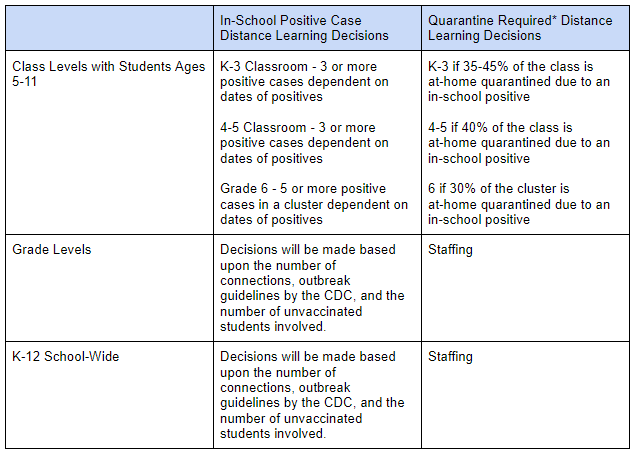 After the holiday, we experienced a major spike in cases. Although RIDOH and the CDC offered reductions in some school restrictions, due to the number of staff and students who need to regularly test in our buildings and the number of staff and students testing positive, we shared an amended version of the recommendations. When our numbers begin to drop, we will revisit the recommendations and allowances for schools. Below, we have provided a link to our COVID case count and a helpful graphic organizer for families developed by the middle school.
COVID Positive Case Dashboard
https://docs.google.com/spreadsheets/d/1LBcAV6uTkyI0ApU7_lHUTW08M8lbGkoe4EmtfZDGm_g/edit?usp=sharing
As noted in an earlier communication of the cases for December and January. 45 cases occurred between December 1 and Dec 22, 2021. The remainder of the cases primarily occurred during or after returning from vacation. To date, we have closed K-6 classrooms that have had 3 or more positive cases simultaneously to prevent spread and to allow for testing to occur within what is possible with our capacity and result turnaround time. We have also closed the high school for several days, as we have had 30 staff test positive and over 100 students since returning from break. We are pleased to reopen the high school on 1/13/2022.
To streamline contact tracing, and to allow us to keep as many students in school as possible, please submit your child's vaccination card to your school forms. Regardless of vaccination status, please submit the permission to test form for your school to avoid close contact quarantine.

BHS
BHS Vaccination Form
BHS Testing Form

BMS
BMS Vaccination Form
BMS Testing Form

HMS
HMS Vaccination Form
HMS Testing Form

Nayatt
Nayatt Vaccination Form
Nayatt Testing Form

Primrose
Primrose Vaccination Form
Primrose Testing Form

Sowams
Sowams Vaccination Form
Sowams Testing Form
Scenarios of Abbreviated Requirements for COVID Positive and Close Contact Students
*Tests Accepted Rapid Antigen, Image of Home Test, PCR