Updated Guidance Regarding Quarantine and Isolation for Students and Staff in Pre K-12 Schools Effective 1-10-22
As you may have heard, effective Monday. January 10, 2022 RIDOH and the CDC have suggested changes to COVID protocols and procedures. At this time, the country is experiencing a spike in positive cases. Although BPS is adopting some of the recommendations as presented, we have also decided to revise some of the proposals to align with the current upward trend in positive cases. Below we have outlined the changes we have made for students. As always, students who either have, or develop symptoms must get tested and isolate themselves.
Updated Guidance Regarding Quarantine and Isolation for Students and Staff in Pre K-12 Schools
In line with CDC guidance, Rhode Island has updated guidance for the general public regarding isolation, quarantine, masking, and testing. National data has reinforced the importance of masking and getting vaccinated and boosted, particularly to protect against the highly contagious Omicron variant.
HIGHLIGHTS
In line with CDC, RIDOH recommendations, local data, and school experience, BPS will adhere to the following:
Student quarantine will continue as usual. We will revisit when cases decrease due to our inability to mask students for 100% of the day.
Implement the Test to Stay quarantine program for those students and staff who aren't exempt from quarantine to maximize in-person learning, and;
Waive the requirement for a negative PCR test result for asymptomatic students and staff who are close contacts and meet the vaccination criteria outlined below* An in-school antigen or PCR will be accepted.
Waive the requirement for a positive test for the symptomatic individuals living with a person who has tested positive for COVID to be eligible for Zoom.
Any student who tests positive for COVID-19 on either a Rapid Antigen, Home, or PCR test will stay home and isolate regardless of their vaccination status. Follow the procedure in the chart below: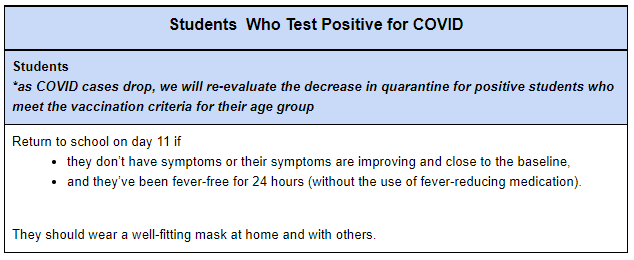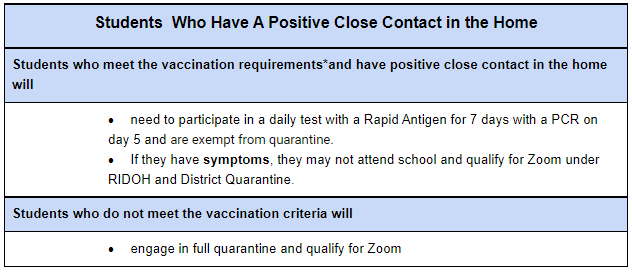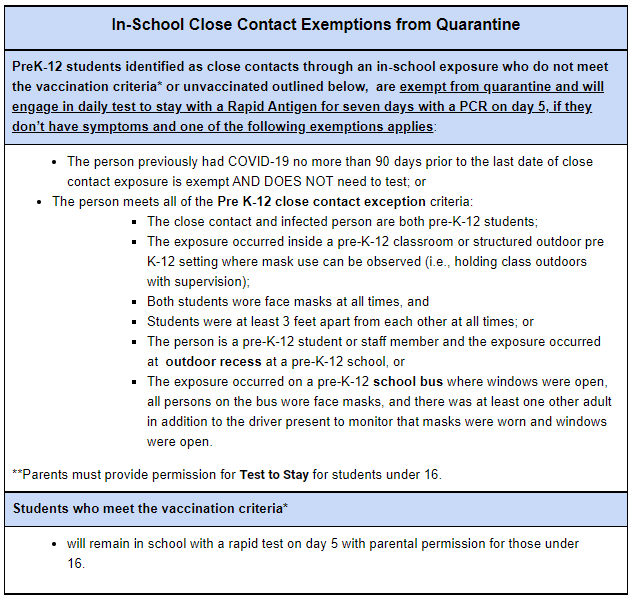 Athletics and Music:
Athletic programs and music programs will continue current testing programs.
Vaccinations:
To meet the Vaccination Criteria*
o Receive a vaccine booster dose;
o Complete the two-dose primary series of Pfizer within the last 5 months;
o Complete the two-dose primary series of Moderna within the last 6 months;
o Complete the one-dose primary series of J&J vaccine in the last 2 months.
Promoting Vaccination
Vaccination remains the most powerful strategy to keep children and families healthy and students are learning and involved in extracurricular activities in person. Find more information at C19vaccineRI.org. RIDOH strongly encourages all eligible students, staff, and families to get vaccinated and boostered.
Since the start of school, 91% of the students in Rhode Island with COVID-19 infection have been unvaccinated. Vaccination remains the best strategy to keep children in school. Students and staff who are not showing symptoms and are up-to-date with COVID-19 vaccination (as outlined above) are exempt from quarantine.
Additional Mitigation Strategies
NEW: As we are in a spike, surgical masks or KN95/N95 masks throughout the day are the safest option, as these are the best-fitting mask. Wearing a well-fitted mask is a critical component to decreasing spread. If a school team member sees an ill-fitted mask on staff or students, a surgical mask or KN95/N95 will be provided, depending on what is on hand at the school.
Students and staff will continue to be provided opportunities to wash or sanitize their hands.
Strong ventilation practices will be monitored

Windows open at least one inch, when possible, with fans facing outward
HEPA filtration units running in spaces without windows, or when it is too cold for open windows
Windows open at least one inch on busses

Providing outdoor (mask) breaks
Maintaining stable pods in PK-6
Regular cleaning of high-touch surfaces
Although the positive case rate in Barrington Schools is currently averaging 10% of the school population, it is essential to note that this spike occurred during vacation. There were 45 cases in our schools for December from 12/1 through 12/22. Since 12/22, we have had 235 cases associated with contact at home and during vacation. We contend that schools are the safest place for our students with solid mitigation strategies. As such, we will strive to be in-person to the extent practicable. See our district dashboard: https://docs.google.com/spreadsheets/d/1LBcAV6uTkyI0ApU7_lHUTW08M8lbGkoe4EmtfZDGm_g/edit?usp=sharing
As a reminder, if a family would like to request full distance learning, the K12 Stride program is available to their child. Families with unique medical needs should contact their school 504, medical, or IEP team for additional accommodations.
If you should have any questions please contact your school administrator or school nurse.
Thank you for your continued support and patience while we all navigate through these unprecedented times.