Mask Wearing Required in Schools and At School Events
Given the CDC update regarding fully vaccinated individuals no longer having to wear masks, Governor McKee announced that he applied the no mask mandate to Rhode Island beginning Tuesday, May 18. However, this mandate does not apply to schools or school events. I have attached the CDC guidance for your information. Image 2 below lists the places where masks must continue to be worn. We will share updates as more information becomes available. https://covid.ri.gov/covid-19-prevention/wearing-masks
Face Coverings A Message From The RIDOH
In alignment with the CDC recommendation, schools must continue to use the COVID-19 prevention strategies outlined in the current version of CDC's Operational Strategy for K-12 Schools for at least the remainder of the 2020-2021 academic school year.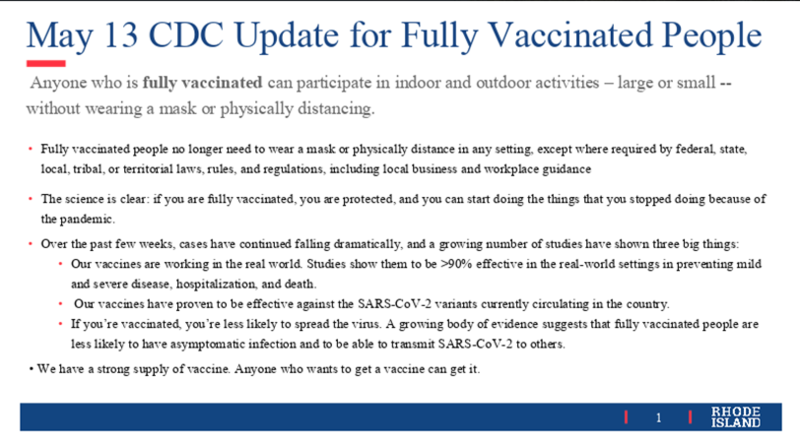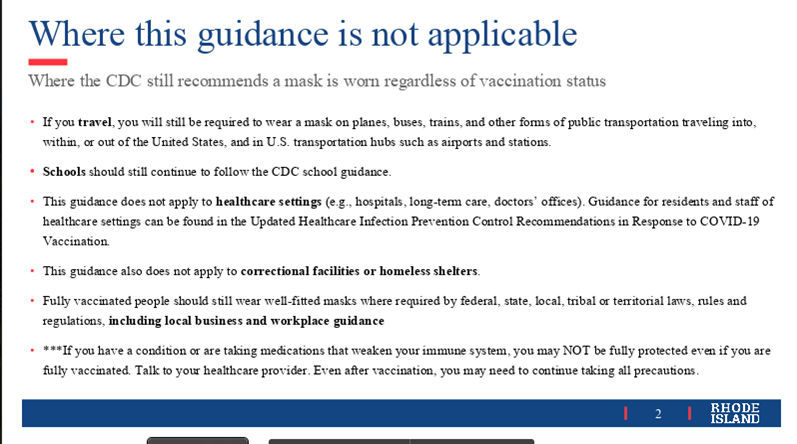 Testing Requirements for Travel for Fully Vaccinated Students
If you no longer wish to engage in daily BiNax testing after returning from a hot spot and are fully vaccinated, students and staff, please provide a copy of your proof of vaccination to your principal.
Students who are not fully vaccinated must continue to follow the state testing and quarantine requirements.
Volunteers in Schools
Barrington Schools are thrilled to be able to welcome volunteers back into our schools. Any volunteer who has provided proof of vaccination and a current BCI is welcome to reach out to building principals to learn more about end-of-year volunteer needs.
Library Books
We are pleased to announce that we will be able to return books into circulation more rapidly. Encourage children to take advantage of the wide array of offerings available.
Changes in BiNax Testing
Individuals who do not have COVID symptoms (asymptomatic) and test positive for COVID via a BiNax test will be required to obtain a PCR test to confirm that they are positive within 48 hours. Schools have been provided tickets to allow school staff and students to test at a state testing site without an appointment.
Invitations and Sign-Ups for Summer Learning and Enrichment
Schools will begin sending out notifications and invitations on June 1
Music, End of Year Activities, Return to School
More guidance will be shared as we receive it.
If you have any questions please contact us or your building principal.