Good Afternoon,
As we enter the midpoint of summer vacation, I hope you and your family are enjoying your time together. I would like to take this opportunity to share updated information regarding some of the work that is taking place in the District.
District Calendar Adjustment
At the School Committee meeting on Thursday, June 13, 2019 the Committee approved my recommendation to adjust the 2019-20 District calendar which moved the Senior Project Professional Development Day earlier to March 9, 2020. March 30, 2020 will be a regular school day.
The new calendar is posted on the website and is available here. (2019-2020 School Calendar)
Middle School Construction Project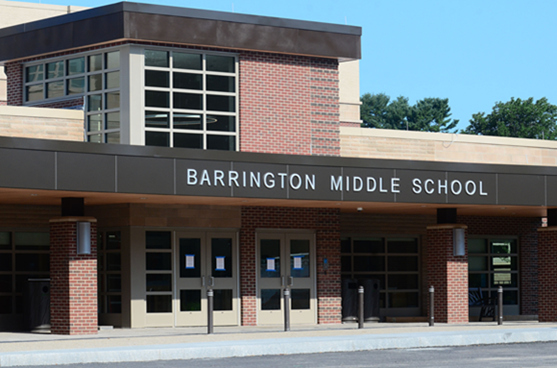 The New Middle School is near completion and we are preparing for its opening prior to the start of the school year. Educational materials from the old building have been moved to the new building. Almost all of the new furniture has arrived and is being place into its designated space. We are close to receiving the certificate of occupancy. Until you receive further notice, the BMS administration and secretarial staff are operating from the High School.
To access the latest information and progress please access the Barrington Middle School Project Website and the BMS Building Project Blog. Live images can be viewed at the Brait Builders Corporation website..
Upcoming Events in Preparation for the Opening of the New Middle School:
· Saturday, August 24, 2019: Community Tour of the new Middle School from 9:00 am to 12:00pm
· Monday, August 26, 2019: Ribbon Cutting Ceremony including a tour of the new building to following the ceremony from 9:00 am - 10:00 am. (Details to follow in an upcoming communication.)
· Monday, August 26, 2019: Community Tour 5:00 pm to 8:00 pm
· Tuesday, August 27, 28 and 29: 2019 BMS Locker Days from 5:00 pm - 7:00 pm.
· Friday, August 30, 2019: Incoming 7th/8th Grade Building Tour from 9:00 am - 12:00 pm.
· Tuesday, September 3, 2019: First Day of School for Students.
Foyer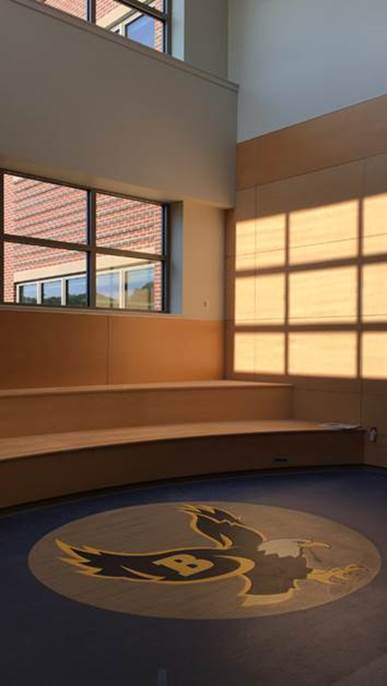 The Student Union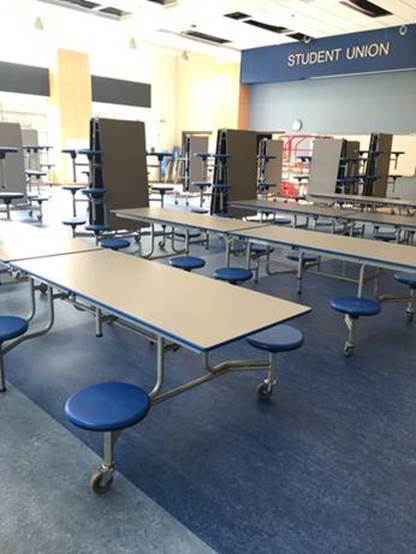 Model Classroom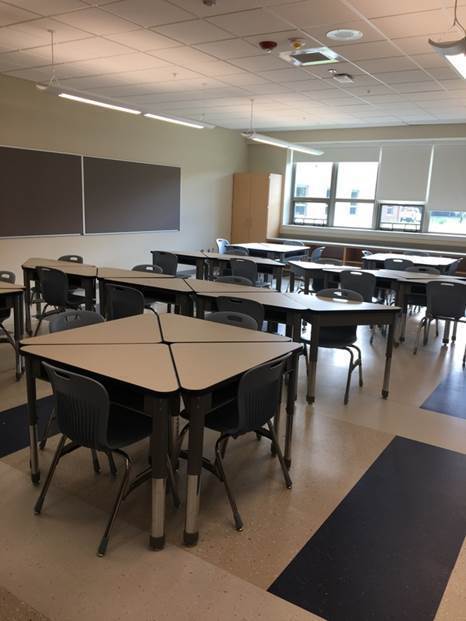 Media Center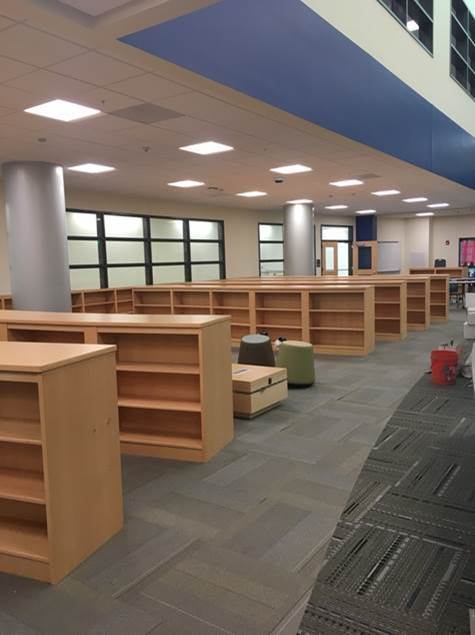 Fresh Look to our Website:
Our district's website and school webpages a fresh new look powered by Apptegy. Over the summer we have begun to populate and update the website. Please be patient as we make this transition.
After reviewing survey feedback and engaging with different focus groups, we have made the decision to move away from our previous platform. Although we have launched the sites, additional improvements and enhancements are underway.
Our full launch will include numerous improvements to our old site. Some of these improvements include a more powerful search engine, ADA compliant features, News Feeds and Live Feeds that update Twitter and Facebook, and easy to use events/calendar updates.
The website will also allow us to send communications through email, text messages, push notifications, and phone calls. In addition, the program provides a connected smart device application. Our new app for mobile phones will provide you with access to the most popular information that is available on the full website!
Stay up-to-date with access to sports' scores, the daily cafeteria menu, news from administrators, policies and handbooks, student stories, events, and emergency notifications. See Video: http://bit.ly/2KboVxV
You can download the Barrington Public School app for free on both Google Play or the Apple App Store.
Download for Android: http://bit.ly/2Q5HwOn
Download for iPhone: https://apple.co/2Q8nC5c
School Schedules and Task Force
The following are the new School Hours for the 2019-20 School Year:
· Hampden Meadows School: 7:45 AM - 2:20 PM
· K-3 Elementary Schools (Nayatt, Primrose Hill, Sowams): 7:55 AM - 2:30 PM
· High School: 8:30 AM - 3:05 PM
· Middle School: 8:40 AM - 3:15 PM
At the School Committee meeting on June 20, 2019, the Committee supported my recommendation to form a Superintendent's School Schedules' Task Force to finalize and communicate a FAQ regarding the change of school schedules for this September.
An updated FAQ, District schedules, meeting agendas, and meeting minutes can be found on the School Schedule webpage. In a the next few weeks, a communication from your building principal will provide you with further details regarding the opening of school in September. For more information on the work of the School Schedules' Task Force, please visit our School Schedule webpage. If you have any questions please contact me at messorem@barringtonschools.org.
Transportation Task Force
At the School Committee meeting on June 20, 2019, the Committee supported my recommendation to form a Superintendent's Transportation Task Force. The purpose of the Transportation Task Force is to serve in an advisory capacity to the Superintendent. The purpose of the Task Force is to assist, advise, and make recommendations that align with the School District's short-term and long term transportation goals. Our transportation goals are:
· Deliver our students safely and efficiently to and from our schools
· Continue to work to improve our transportation systems
· Look for ways to find cost savings in transportation
· Develop a Transportation Manual the clearly explains and defies the process and procedures associated with District transportation
· Encourage feedback from the community
The Transportation Task Force is comprised of three (3) members of administration, as appointed by the superintendent, a representative from Ocean State Transportation, and up to six (6) members of the public. See the Transportation Task Force website for the composition of the Task Force.
The Task Force held an introductory meeting on July 18, 2019 and will be meeting again on August 1, 2019. For more information on the work of the Transportation Task Force, please visit our Transportation Task Force website.
We encourage you to follow the work on the website and if you have any questions please contact me atmessorem@barringtonschools.org.
Transportation Routes 2019-20 School Year
We are currency working on the transportation schedule for the 2019-20 school year. Information regarding schedules and stops will be communicated to you in the next few weeks.
With the start of a new school year, there is always a transition period in establishing our bus routes and addressing concerns and questions regarding bus routes and stops. During the first few days, you may experience transportation delays regarding pickups and the bus ride home. Right from the first day of school, administrators and staff work with the students to ensure that they are boarding the correct bus and that they have learned their bus number and bus stop. Students learning this process helps to alleviate delays which directly impacts the schools' bus schedule.
As always, we work closely with Ocean State Transportation to ensure that buses arrive and depart in a timely manner. If you have any questions regarding student transportation please contact Melissa Resendes, Transportation Coordinator at Barrington Public Schools. The Transportation Coordinator and Director of Administration of Finance will review all questions and concerns and provide you with a response.
Please contact:
Melissa Resendes
Transportation Coordinator
Barrington Public Schools
401-245-5000
Resendesm@barringtonschools.org
Doug Fiore
Director of Administration and Finance
Barrington Public Schools
401-245-5000
Fiored@barringtonschools.org
Start of Schools Professional Development Days Update
The Professional Development Committee is building the professional development calendar for the educators' return on August 27-29. It will soon be posted on the district website and emailed to staff. The focus of the professional development days will be on Deep Learning, Curriculum Updates, and Student Support Enhancements.
A Message From The Rhode Island Department of Transportation
Temporary Road Closure
Please be aware that Nayatt Rd., from Rumstick Rd. to Bay Rd., road will be closed for paving, Fri., 7 a.m.-5 p.m. Follow signed detour.
Flu Clinics
Barrington will host 2 evening flu clinics to vaccinate Students, Staff/Faculty and Family Members (ages 3 and up).Families from all schools are welcome to attend either night . There is no out of pocket cost for anyone to be vaccinated.
Sowams Elementary School - cafeteria
364 Sowams Rd
Thursday, October 10, 2019
4-6:30 PM
And
Barrington High School - cafeteria
220 Lincoln Avenue
Tuesday, October 29, 2019
4 – 6:30 PM
I welcome your feedback and questions regarding our summer projects. If you have building specific questions, please feel free to contact your building principal.
I hope you continue to enjoy the rest of the summer.
Mike Messore
Michael B. Messore III
Superintendent
Barrington Public Schools
283 County Road
Barrington, R.I. 02806
(401) 245-5000 ex1
(401) 245-5003 fax
www.barringtonschools.org
messorem@barringtonschools.org