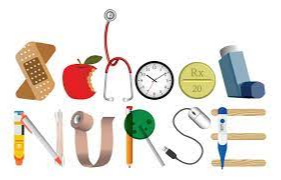 Ms. Melissa McDonald BSN, RN
mcdonaldm@barringtonschools.org
401-247-3166
VACCINATION:
Information about registering for a COVID-19 vaccine can be HERE

Vaccination remains the most powerful strategy to keep children and families healthy and students learning in person and involved in extracurricular activities
What is a Virtual Calming Room?
Life can be overwhelming, anxiety invoking, and stressful. Sometimes we all need a healthy escape. Virtual Calming Rooms were inspired to help students, staff and families locate tools and strategies to positively manage their emotions.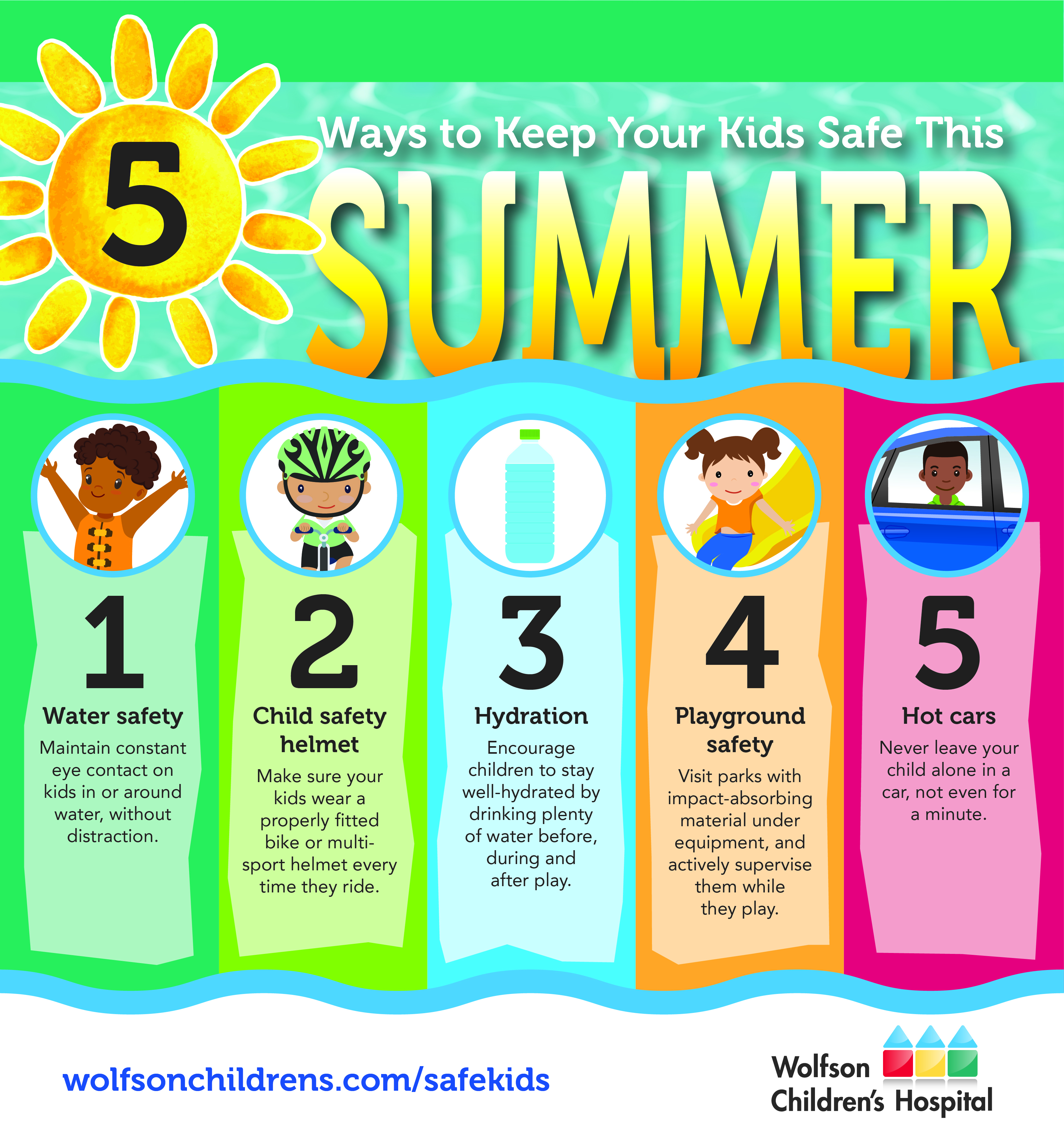 WELCOME SUMMER BREAK!
Hello All,
Thank you to all the parents/guardians for the ongoing communication and working together to keep our schools safe and healthy for all!
RIDOH continues to provide the COVID-19 Testing Program for all RI PK-12 public and private school students, faculty and staff who have been identified as a close contact of a positive case, or are a classmate of a positive case or symptomatic. Services are available in multiple languages.
COVID TESTING IN SUMMER
There are many places where Rhode Islanders can get COVID-19 testing. State-run COVID-19 test sites will close at the end of June 2022. The State may reopen certain test sites if COVID-19 Community Levels are high. For more information, visit covid.ri.gov/testing.
Primary care offices
Call your primary care provider or child's pediatrician. Ask if they offer COVID-19 testing in their office or can order a test through a laboratory.
Test To Treat Program
Through this program, people can get tested and – if they're positive and eligible for treatment – get a prescription from a healthcare provider, and have their prescription filled all at one location whether or not they have insurance. To find participating sites near you, visit bit.ly/3vWlCm6. To get help in multiple languages, call 1-800-232-0233.
Increasing Community Access to Testing (ICATT) for COVID-19
The Centers for Disease Control and Prevention's ICATT program can help you find where to get a free COVID-19 laboratory test whether or not you have insurance. For more information, visit bit.ly/3vquwJv.
Pharmacies
Visit CVS.com or Walgreens.com to find drive-through testing near you. Some locally owned pharmacies also offer COVID-19 testing. Go online or call to make an appointment.
Clinics and urgent cares
Some clinics will accept new patients or patients from other healthcare practices. Some clinics will only test existing patients. To view a list of clinics that offer COVID-19 testing, visit bit.ly/3f2gHIh.
At home
Kits that you can use to test yourself for COVID-19 are available through federal distribution programs, local pharmacies, online retailers, and some schools and summer camps. All Rhode Islanders can order free COVID-19 self-test kits by visiting covidtests.gov. Report your self-test result to RIDOH at portal.ri.gov/s/sel est.
6/2/2022
| covid.ri.gov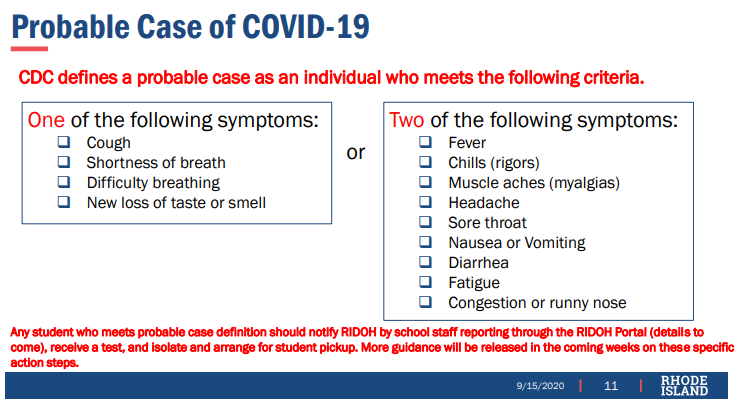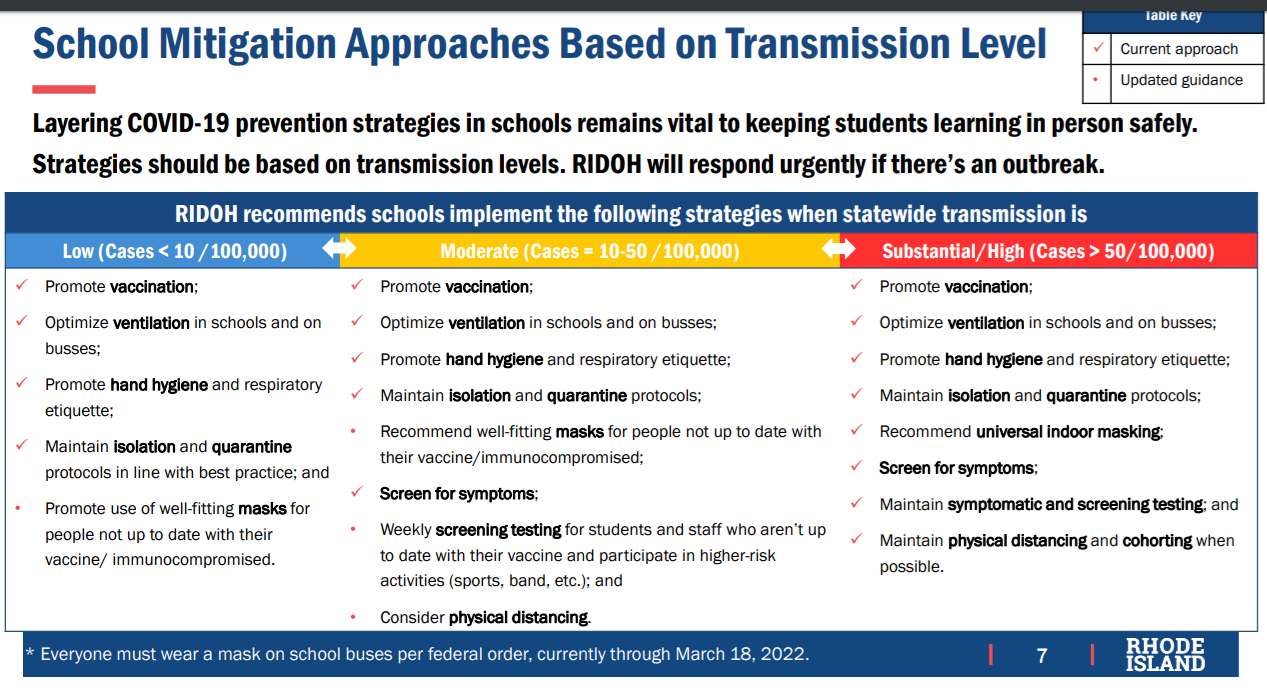 IF YOUR CHILD HAS SYMPTOMS:
Please keep all children home from school

Report symptoms to the school nurse to determine if COVID-19 testing is needed (symptoms suspect of COVID-19 still require a confirmatory PCR if the rapid is negative)

Email the school nurse if illness occurs outside of school hours

Communication is important to ensure contact tracing if there is a positive case

Please complete the AFTER- ILLNESS RETURN ATTESTATION FORM and send it to the school nurse when your child is ready to return to school
IF YOUR CHILD OR SOMEONE IN YOUR FAMILY IS TESTED FOR COVID-19:
The symptomatic child must remain home to await negative PCR test results before returniing to school.

Rapid test results are usually available within hours

PCR (final) test results are usually available in 1-2 days

Please provide the school nurse with a copy of your child's PCR test results and the AFTER- ILLNESS RETURN ATTESTATION FORM

*(Exception- those with a history of COVID-19 disease within last 90 days do not need to quarantine or test with a PCR if symptoms present)